Organizing a line of defense against the antis
September 27, 2018
Michelle Sapere reports from Rochester on how supporters of reproductive rights organized a clinic defense when right-wingers tried to go on the offensive.
ANTI-CHOICE bigots outside of Planned Parenthood are nothing new in Rochester, New York, especially at the University Avenue location, where they not only frequently convene outside the clinic, but go so far to try leading patients toward a fake clinic down the street.
But September 18, the city of Rochester told a group of anti-choicers that they wouldn't be subject to a court-ordered 15-foot buffer zone around the University Avenue clinic.
This led a group of reproductive rights supporters, including the local branch of the International Socialist Organization (ISO), to prepare to confront the bigots as they began their misnamed "Forty Days for Life" campaign on September 25.
Supporters of the right to choose outnumbered the antis throughout the evening clinic defense and made sure that our message was heard above their bigoted chants.
The buffer zone at this particular Planned Parenthood is marked outside in thick yellow paint. It was the result of a federal injunction handed down in 2005 against Operation Rescue National and other anti-abortion groups after a history of harassing actions that included physical violence against patients and staff.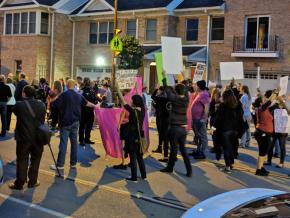 But the Thomas More Society, a conservative advocacy law firm based in Illinois and Nebraska, contacted the city of Rochester in August on behalf of area resident Jim Havens and ROC Sidewalk Advocates, and claimed officials were wrongly denying Havens and his organization their First Amendment rights.
As part of the "40 Days for Life," ROC Sidewalk Advocates claimed they didn't have any affiliation with the groups originally cited in the injunction, and so the city of Rochester decided that allowing them to come as close as the front doors of the building would be perfectly fine.
---
IT WAS at this point that pro-choice activists, including the ISO, decided to get organized, calling a coalition meeting on September 19 to plan a clinic defense the following week.
Unfortunately, as news of the plan to confront the right wingers spread, so did the push back from the political arm of Planned Parenthood, which takes the position that activists should ignore the anti-choicers and hope they go away.
As the Rochester ISO wrote in response on our Facebook page:
[A]nti-choice protesters will descend on Planned Parenthood here in Rochester and at other sites across the country to kick off their inappropriately-named "Forty Days for Life," in which these protesters will try to paint themselves as defenders of the living while attacking the life-saving procedures of Planned Parenthood.

These anti-choice protests are happening in the wake of two Supreme Court nominations by Trump that put Roe v. Wade in clear and present danger. If there was ever a time for bold action in support of reproductive health, it's now.

We stand with Planned Parenthood's concern for protection of not only reproductive health care, but also its concerns for patient and provider safety. It is in this spirit that we refuse to cede any ground to the reactionary forces that not only wish control women's bodies and access to safe and affordable health care, but also have not hesitated in the past to use violence and murder to further these ends.

Ignoring those who wish to take us back to the dark ages will not make them go away. In fact, it was just such a strategy that has landed abortion rights in its present precarious position. We need a strategy that unhesitatingly stands with Planned Parenthood and defends it against the attacks from reactionary forces on its doorstep and their cronies in the White House and Supreme Court.
Shortly before the clinic defense, the original injunction for a buffer zone was put back in place after evidence was released showing that Jim Havens, along with Mary Jost (who runs the fake clinic "Focus Pregnancy Help Center" down the street) were helping to train the ROC Sidewalk Advocates. Jost, formerly Mary Melfi, was an original defendant in the 2005 case.
---
WITH THE buffer zone back in place, it was still important that our side get to the clinic early and in larger numbers to push the anti-choicers back even further from the patients and staff at Planned Parenthood. Their "vigil" was scheduled for 7 p.m., so our side began showing up at 5:30 p.m. and soon grew to 50 of us occupying both sides of the street, with neighborhood supporters allowing us to block driveways.
On six days' notice and despite liberal pushback to just stay home, we managed to still outnumber the anti-choice protestors, who "peacefully" held up grotesque and faked photos of "abortions."
Some of the antis physically pushed by a few of us on their way to meet their fellow creeps. A few tried to pass the yellow line, but were quickly stopped. There were 35 anti-choice protesters at most, and they were forced to convene in the street. Our continent drowned out their weak chants and hymns with two blow horns and a quickly updated chant of "Back up, back up, we want freedom, freedom. All you anti-choice bigots, we don't need 'em, need 'em."
By 7:30 p.m., police began threatening the demonstration to disperse, and we called for an end to our counterprotest. The police presence was heavily focused on us, even though historically, the antis are the ones who have committd violence. By 8 p.m., their side was down to two stragglers, and ours to about 15.
We all left empowered, energized and feeling like defenders of the clinic. We kept the bigots far away from the doors of Planned Parenthood so that those inside could safely be inside and safely leave after their appointments or shifts.
As a true line of defense, we did more than a painted line on the ground could ever do — we stood up and fought back against the hate.