We stand for choice in Chicago
January 16, 2019
When anti-abortion forces gathered for their annual Chicago March for Life on January 13, they faced some loud and angry opposition — with a coalition of several organizations turning out 150 protesters to counter their message of hate.
The groups included Chicago Campaign to Expose Crisis Pregnancy Centers, Chicago Democratic Socialists of America, the International Socialist Organization (ISO), Chicago Feminist Action, Chicago Therapy Collective, Gay Liberation Network, Illinois Choice Action Team and Illinois Single-Payer Coalition. They joined together for a vocal pro-choice message against the thousands-strong anti-abortion demonstration.
"I grew up in a Catholic environment," said Fae Robertson, speaking for the ISO. "They would bus us to these rallies for extra credit. But I know they don't actually care about the tragedies and struggles of Black women on a day-to-day basis. "I learned from my experiences the importance of autonomy and that women must have a choice. I am here today to assert my right to comprehensive health care." The DSA brought out members beyond their chapters, connecting the fight for Medicare for All and reproductive justice.
At one point, six masked members of the new Nazi group Patriot Front, joined by anti-choice extremists Abolish Human Abortion, unfurled a banner on a corner opposite the pro-choice demonstration, before they were shouted down by our side.
Here, we print an article by Lauren Bianchi written before the march to explain why supporters of reproductive rights must stand up to the anti-abortion bigots.
EVERY JANUARY, thousands of anti-abortion activists gather in Chicago's Federal Plaza for the largest anti-abortion event in Illinois, the March for Life Chicago. Wielding banners and yellow balloons, the annual event serves as the Midwest extension of the massive national March for Life in Washington, D.C.
March for Life organizers aim to "mark with deep sadness the great tragedy of the legalization of abortion in the United States." The event's timing is tied to the January 22 anniversary of the Supreme Court's landmark 1973 ruling in Roe v. Wade, which made legal abortion the law of the land.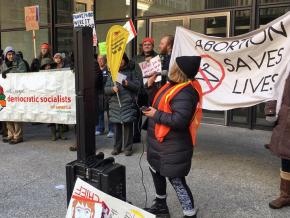 During the past four decades, the conservative anti-abortion movement has waged a tireless campaign to restrict abortion rights toward their ultimate goal of overturning Roe. Events such as the March for Life are part of the right's strategy to turn Roe into a rallying cry for their side. As pro-choice Chicagoans, we refuse to allow Roe's legacy to be erased.
We are a coalition of pro-choice activists committed to defending abortion access. Since 2013, we have rallied each January in opposition to March for Life Chicago. Our yearly counterdemonstration calls on all women, all people who can become pregnant and all parents to join together against the dangerous lies and substantial threat the anti-abortion right poses.
We celebrate Roe's life-saving impact for so many thousands spared from back-alley abortions and march for an expansion of access to safe and affordable reproductive health care, gender-affirming care, and all the resources to raise healthy children for those who choose to have them.
Far from tragic, access to abortion is necessary for bodily autonomy. One's ability to choose if and when to become pregnant and carry to term is fundamental to our humanity and basic dignity. As the recent #MeToo movement reminds us, gender equality is not possible until women have full ownership of our own bodies.
Our commitment to reproductive justice stands in stark contrast to the sexist, racist, homophobic and transphobic anti-choice movement that has attracted a growing effort of white supremacists and neo-Nazis to recruit to the organized far right. We reject the bigoted and cruel logic of a movement that calls itself "pro-life" while working to outlaw lifesaving abortion care and enable deadly violence against abortion providers.
---
THE ELECTION of Donald Trump has further emboldened the anti-choice right. While Trump has in the past described himself as "very pro-choice," his views shifted dramatically to the right during his campaign.
In a 2016 interview with MSNBC host Chris Matthews, Trump suggested that women who had abortions were deserving of "some form of punishment," a statement far surpassing the views of the conservative mainstream.
Trump's administration has quietly succeeded in stripping state funding for Planned Parenthood and banning allocation of federal funds to global aid groups that promote abortion. Both Trump and Vice President Mike Pence have made their anti-abortion commitments clear, with Pence calling Trump "the most pro-life president in American history."
Last year, Trump became the first sitting president to address the national March for Life via satellite, where he praised marchers on the National Mall for their efforts to protect human life at all stages. The hypocrisy of an administration and its supporters that would insist they are protecting human life while simultaneously imprisoning and endangering immigrant children at our southern border is incredible.
As the GOP continues to wage war on abortion rights, too few Democrats have been willing to make reproductive rights a priority. In 2017, then-House Minority Leader Nancy Pelosi argued that abortion "is fading as an issue" within her party. Though other party leaders like Democratic National Committee Chair Tom Perez maintain that support for abortion is "nonnegotiable" for democratic candidates, it's obvious that pro-choice advocates must take matters into our own hands at this critical moment.
We can't rely on Congress to confront an anti-choice assault that reaches well beyond national legislation, from state houses to clinic doors. We have to rebuild a grassroots movement capable of both defending and expanding our rights.
---
TRUMP'S ATTACKS are only the latest setback in a decades long fight. Though overturning Roe remains its highest aspiration, the anti-choice movement has gained considerable ground by targeting abortion rights at the state level.
This strategy has yielded devastating results. Since 2010, states have passed over 400 laws restricting abortion. Mounting legal restrictions have eliminated abortion access for millions of women, particularly those living outside of major cities.
In 2014, the Guttmacher Institute found that an astounding 90 percent of all U.S. counties had no remaining abortion clinics. For most patients, financing an abortion now includes the cost of travel, housing, and unpaid workdays in addition to the procedure itself.
Legal restrictions have been coupled with the aggressive presence of anti-choice protesters outside clinics doors nationwide. Anti-choice demonstrators routinely block entrances and harass patients who try to enter. The bi-annual "40 Days for Life" campaign, which promotes non-stop "prayer vigils" for 40 consecutive days, encourages anti-choice groups to demonstrate on site at their local Planned Parenthood or other reproductive health center.
In Chicago, residents are likely to encounter anti-choice billboards targeting Black women and bus ads for faith-based crisis pregnancy centers (CPCs), fake clinics operated by anti-abortion groups that pressure people to choose adoption.
CPCs, which now outnumber abortion clinics by a wide margin, continue to receive millions of dollars in state funding. In 2017, the Supreme Court ruled in favor of a group of California CPCs who challenged a state measure that would have required them to provide information about abortion.
---
AS PRO-CHOICE America retched at Trump's choice of conservative Brett Kavanaugh as a Supreme Court nominee, abortion rights activists in Ireland celebrated the historic repeal of the Eighth Amendment, a law that forced thousands to travel to Britain each year seeking abortions.
The movement to repeal the Eighth successfully swayed public opinion through a massive grassroots campaign built around door-knocking in communities and highly visible public protests. This recent victory overseas should prompt U.S. activists to examine how we can duplicate their success here.
The largely women-led resistance against Trump is a welcome development for the pro-choice movement. Trump's misogynistic rhetoric and transphobic policies have inspired widespread feminist opposition and helped make him a historically unpopular president. Yet the momentum of the Women's Marches hasn't directly led to gains for reproductive rights.
Notable efforts to oppose Kavanaugh's appointment based on his anti-abortion record were unsuccessful, even with the added pressure of Christine Blasey Ford's powerful testimony. Turning the growing outrage against Trump's attacks into pro-choice resistance will be crucial during the remainder of his time in office to stave off further setbacks.
More than 45 years after Roe, a majority of Americans say they support legal abortion, but this fact alone won't protect our rights. In terms of visibility, the anti-choice movement has dominated the narrative for too long.
The vocal and well-funded forces of the anti-abortion movement cannot be ignored out of existence. To stop them, we must publicly and confidently oppose them wherever they go. This means mobilizing our communities for confident public protests in support of abortion access and against their lies and hate.
Further, we must do more than merely protect the few rights we have left; we must insist that healthcare is a human right and that all healthcare, including abortion, should be available for free, on demand, and without apology.
To successfully defend legal abortion in this century, we'll have to reclaim the legacy of Roe and carry its lessons to a new generation of pro-choice activists. Roe was decided in the courts but could not have been won without the work of activists in the women's liberation movement who boldly fought for free abortion on demand and the repeal of all abortion restrictions.
Let's make every January a time to celebrate Roe's positive impact and to defend and expand reproductive freedom for all. On January 13, we invite all who can make it to join us in Chicago for the fifth annual pro-choice counterprotest against the March for Life. The future of abortion access is up to us and the stakes could not be higher.
Rachel Cohen contributed to this article.