Challenging Seattle's broken system
June 15, 2017
"EVERY GREAT change that has occurred in this city in the past eight years has been because those communities have risen up and used their voice to ask for that change: shut down chambers, gone to people's houses and into their offices, until we got the change that we most needed. It has not been because politicians moved for it."
So declared the newly formed Seattle People's Party candidate Nikkita Oliver--an educator, attorney, poet and political organizer--in the first Seattle mayoral debate in April.
Oliver continued her remarks:
HALA [Housing Affordability and Livability Agenda], MHA [Mandatory Housing Affordability], $15 [minimum wage], the No New Youth Jail campaign, Block the [Police] Bunker--even the [federal] consent decree [on the Seattle Police Department]--have all been because of movements of the people. What we need are leaders who listen to the needs of the most impacted in our communities and actually act on those solutions that are being brought forward by them.
Oliver, a Black, mixed-race, queer organizer, has been one of the most vocal leaders in the local movement for Black lives in Seattle. She has helped build actions against police brutality, against a new youth jail, and in support of local education initiatives that increase arts in schools and for the Black Lives Matter at School campaign.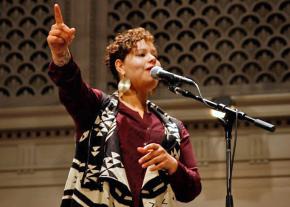 She works full time in Seattle Public Schools as a resident artist educator with the Creative Justice program. As a renter in the city, she is all too familiar with rising rents and has been displaced from several homes due to high fees, even coping with homelessness during one difficult period.
When Oliver announced her candidacy for mayor in a video on March 8--International Women's Day--she electrified the Seattle activist scene. A few weeks later, she drew hundreds of people to a standing-room-only campaign kickoff event--the auditorium was filled with a multiracial cross section of Seattle, including many youth and student activists.
---
WHILE THE excitement for Oliver was already high among activists, youth and artists, at that point, Oliver's campaign was widely viewed as a long shot against the incumbent, Mayor Ed Murray, Seattle's first openly gay mayor.
Murray's political power was based on his support from the political establishment, liberals and labor unions--which he solidified by using the language of progressivism, making limited concessions to organized social movements while maintaining a status quo approach to politics that made him quite acceptable to Seattle's financial elites.
But in April, Murray's re-election bid suddenly unraveled when four different men came forward to claim he had sexually abused them as teens.
As these allegations surfaced, a flurry of candidates entered the race--some 21 candidates are now running, including former Seattle Mayor Mike McGinn, state Rep. and former labor activist Bob Hasegawa, and business favorite Jenny Durkan.
Mired in scandal, Murray withdrew from the race, making this perhaps the most tumultuous and wide-open mayoral race in Seattle's history.
Nearly all of the mayoral candidates are fluent in liberal talking points, including advocating for a city income tax on the rich, affordable housing and programs to address homelessness.
However, Oliver's campaign has separated itself from the pack by being closely aligned with social movements in the struggle for oppressed and exploited communities in Seattle, which are being left behind by a massive tech boom and brutalized by an unaccountable police force.
---
THE DIVIDE between the rich and "the rest" in Seattle could not be more apparent. Seattle has the fastest growing rental rate of any city in the U.S., and ranks eighth in rental prices nationally.
The city has over 3,000 homeless students in the public schools and over 3,000 people are on the streets every night--making the city fourth in the nation for homelessness, behind New York, Los Angeles and Las Vegas.
The Seattle Police Department is also notoriously brutal and has been operating under a federal consent decree since 2012 when the Department of Justice (DOJ) found a disturbing pattern of excessive use of force, particularly against people of color. The DOJ report also found that one in four arrests involved a violation of that person's constitutional rights.
Oliver's policy platform forcefully takes up these issues of race, class and oppression.
Among other things, her policy agenda calls for rent control, 25 percent of all new up-zoned developments reserved for low-income tenants, increased public housing, and restorative justice programs in the courts and schools as an alternative to mass incarceration and school expulsions.
As she said at her campaign kickoff: "To actually stop the school-to-prison-pipeline, we must transform the legal system...We cannot arrest our way out of unaddressed social problems. We cannot imprison our way out of the trauma that the criminal injustice system has created...In fact, we must restore our way out of it...The system is broken, not our children."
---
OLIVER'S ROOTS in social justice movements, her refusal to take any corporate donations, and her decision to run her campaign outside of the confines of the corporate two-party system show she is accountable to regular people and not business elites.
Seattle's alternative weekly newspaper The Stranger wrote of her decision to run with the People's Party, "Oliver's independence from the Democratic Party may prove to be her greatest weakness in an increasingly competitive mayor's race."
Yet it is precisely her decision to run outside of the Democratic Party--a party that makes promises to be champions for the oppressed, but is more concerned about pleasing its corporate sponsors--that makes her campaign an important contribution to the struggle for social justice.
While the Seattle mayoral race is technically "nonpartisan," it is a given that most candidates run as members of the Democratic Party. While Seattle and Washington state have long been run by Democratic strongholds, however, the state has the most regressive tax structure in the nation, and the city of Seattle has the highest taxes on low-income earners and fourth-lowest taxes on high-income earners.
While it may be true that running outside of the Democratic Party will cause some people not to vote for Oliver, it may also energize many people who don't usually vote because they see nothing on offer from the political status quo that has resulted in Seattle's affordability crisis.
Crucially, the activists and organizers that make up the People's Party say that they envision the party as long-term project that can serve both to run social justice candidates in many different races, but also engage in actions and organizing to hold politicians accountable between elections.
As Oliver's campaign manager, indigenous rights leader and member of the Blackfeet Nation Gyasi Ross, told me of the decision to launch the People's Party:
We need an institutional memory of how we organize. Because this isn't a one-year project. This isn't a one-year experiment. Hopefully it's a 10-year or 20-year project that says we are going to retain some of this knowledge and network of how we seep into some of the machinery and get involved in a more strategic level.
As a People's Party position statement explains about the decision to launch a party outside of corporate duopoly:
We live in a time of grave political upheaval. The upheaval is the symptom or manifestation of issues that have plagued the United States since its inception. The political system in the United States has grown increasingly more dysfunctional. With each successive election the two-party system has become more adversarial. Accordingly, the system grows increasingly ineffective at addressing solutions that we, the People, care about and to which we require immediate action and response.

People do not believe their voices can impact the political process and actually lead to long lasting transformational change. For these reasons Nikkita and the People's Party have chosen to declare independent. We are pushing a solution-based agenda which focuses on the issues faced by everyday working people rather than party politics.
---
FOR THESE reasons, the International Socialist Organization has endorsed Oliver's campaign for mayor. She is running the kind of independent, left-wing campaign that is needed to challenge both an emboldened right-wing in Trump's America and a corporatized Democratic Party.
The ISO is not alone in our recognition of the importance of Oliver's campaign. She has been gaining momentum with a growing list of endorsers that include the Seattle Education Association (the union representing teachers and other educators in Seattle), numerous community organizers, the Green Party of Seattle, Seattle Democratic Socialists of America, and Seattle City Council member Kshama Sawant and Socialist Alternative.
The mayoral election primary will take place on August 1, and the top two candidates in the primary will advance to the November 7 general election. While Oliver's independent bid for mayor will face an uphill battle, and she will likely continue to be portrayed as an "outsider," with Mayor Murray out of the race, Oliver not only has raised the most money from small donations, she also has the largest activist base.
Win or lose at the ballot box, Oliver is clear that her campaign and the formation of the Seattle People's Party is a step forward for Seattle's 99 Percent.
As she said of her bid for mayor, "We need to create a sustainable model for political power for everyday people who may not have an interest in being career politicians but do have an interest in seeing the system being effectively transformed to show what access and equity actually look like."